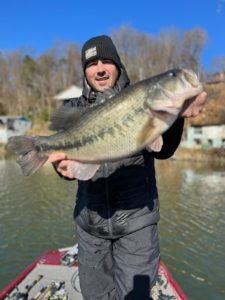 As we approach another year in the Shenandoah Valley I'm reminded of the glory days of past catching good quality bass on the local river.  Excitement going into fishing trips knowing you could hook multiple citation bruisers was more than one could stand.  The health of the Shenandoah fishery is trending in the direction of the days of old.  Reports of citation smallmouth, largemouth, & walleye come in on a weekly basis.  The first day of general firearms season in Virginia, Neil Quince and Jim Storrs took to the Shenandoah River out of Riverton, Front Royal after anything that would bite.  Neil ended up landing a monster double digit largemouth bass!  The big girl ate a Missile Jig and craw trailer in the 44 degree water temp!  They also had quite a few aggressive smallmouth.  They ended up with 22 total on the day, 14 smallies and 8 largemouth.  Lonnie Conner also had success on the Riverton section with 5.27 smallmouth in the month of December.  John Boy Stevens and Dennis Loy also posted pics of 21+ inch citation smallmouth during the month.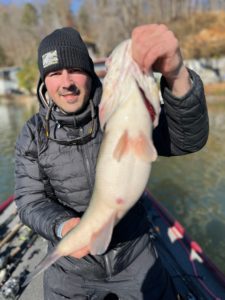 January will continue to be a wintering pattern for the river.  Water temperatures will continue to drop and water clarity remains clear.  Look for fish to be stacked up in the deeper slack pockets of the river.  Think slow, fish slow.  Drag deer hair jigs and tubes along the bottom in the deep sections of the river.  A ned rig would be another good option.  Be patient and slowly drag them along with periodic pops and twitches.  Staying on the bottom you can also catch them on smaller profile rubber jigs or a creature bait.  Before leaving the deep water I would consider throwing a jerkbait.  Even though fish become a bit more lethargic in the colder water it's important to realize they are still swimming, moving, and will definitely move up in the water column to eat when they are hungry.  A free floating jerk has fooled a lot of big smallmouth.  Vary your retrieve to see what the fish want.  Going against the fish slow motto for winter bass be sure to try out a crankbait.  Sounds crazy but we've seen a lot of good citation wintering bass take a crankbait in the right place at the right time.  The second contradiction I'm going to make to my earlier recommendations is to fish the same presentations shallow.  In the December issue of Bass Times article on page 20 Jason Christie talks about going against the traditional deep slow bite.  He said fishing in the wintertime "I've caught them shallow burning a crankbait at times. You have to be open-minded".  I realize he's predominately fishing lakes but the river will fish similar.  Understand that shallow water will warm up a few degrees by mid-day especially if the sun is beating down on the rocks in the shallow water.  How many of you have seen the kayak videos of snow on the ground and the angler easing up along the bank to touch the back of a big smallmouth as it leisurely swims off?  Fly hatches, bait fish, and forage will become more active in the shallow water as it warms.  Fish like to push up to feed during this increased activity.  The key to catching them shallow if they are up is to approach from the downriver side and make long casts.  If you happen to push up too close and spook one, make a mental note, fish away from the area and return back in 15 minutes with a little more stealth.  I've caught fish I previously spooked by doing this.  Areas I would recommend to catch fish this winter will be as mentioned Riverton, Front Royal down river from the powerline to the dam.  Locke's Landing up from Watermelon Park up river on the first bend is a good wintering hole.  Egypt Bend is another stretch of the river that offers slower deep slack wintering holes with potential for big bass. 
Don't forget January is a great month to catch the Richmond Fishing Expo.  A short trip down the road January 20-22 will put you amongst many like-minded folks talking fishing, sharing tips, and buying stuff you can't do without!  W2's Chris McCotter's Bass Tank demonstrations are always a highlight.  I have learned techniques at the Richmond Show that I still use today to help me catch fish!  Hope to see you all down there!  Lastly, be sure to follow Jake's Bait & Tackle on Instagram and Facebook as we like to share our customers great photos of local catches.  It's always encouraging to know the biggun's are still swimming around!
As always, check out the podcast sponsored by us – Fishing the DMV! You can listen to the episodes anywhere you get your podcast (Spotify, Apple, etc) or watch on YouTube! <— Click on the word to take you there!
* This Article is written for Woods & Water Magazine by Jake's employee Jared Mounts. For more great info and regional reports check out their website at https://woodsandwatersmagazine.com/.